Tango Secrets Trivia
Play and learn the tango culture.
Tango Secrets Book Reviews
Alessandra, Rome

With Tango Secrets I feel free to dance!

Mingli, Shanghai

I had a fun trip to the past and present of tango in one tango book!

Seth, New York

The "Bible" of Tango and the reason I'm enjoying this!

Martina, Barcelona

This new Tango Secrets guide saved me 3 years of learning!

Sonia, Los Angeles

So much easy and free knowledge! Love Tango Secrets!

Daniel, Berlin

A new perspective to feel empowered by tango, guaranteed!
Tango Secrets Book Numbers
150+ Dance Contributors
236 Total Pages Tango Dance Pictures
2000 Writing Hours
50 Million Potential Readers
0
Total Pages + Tango Dance Pictures
0
Million Potential Readers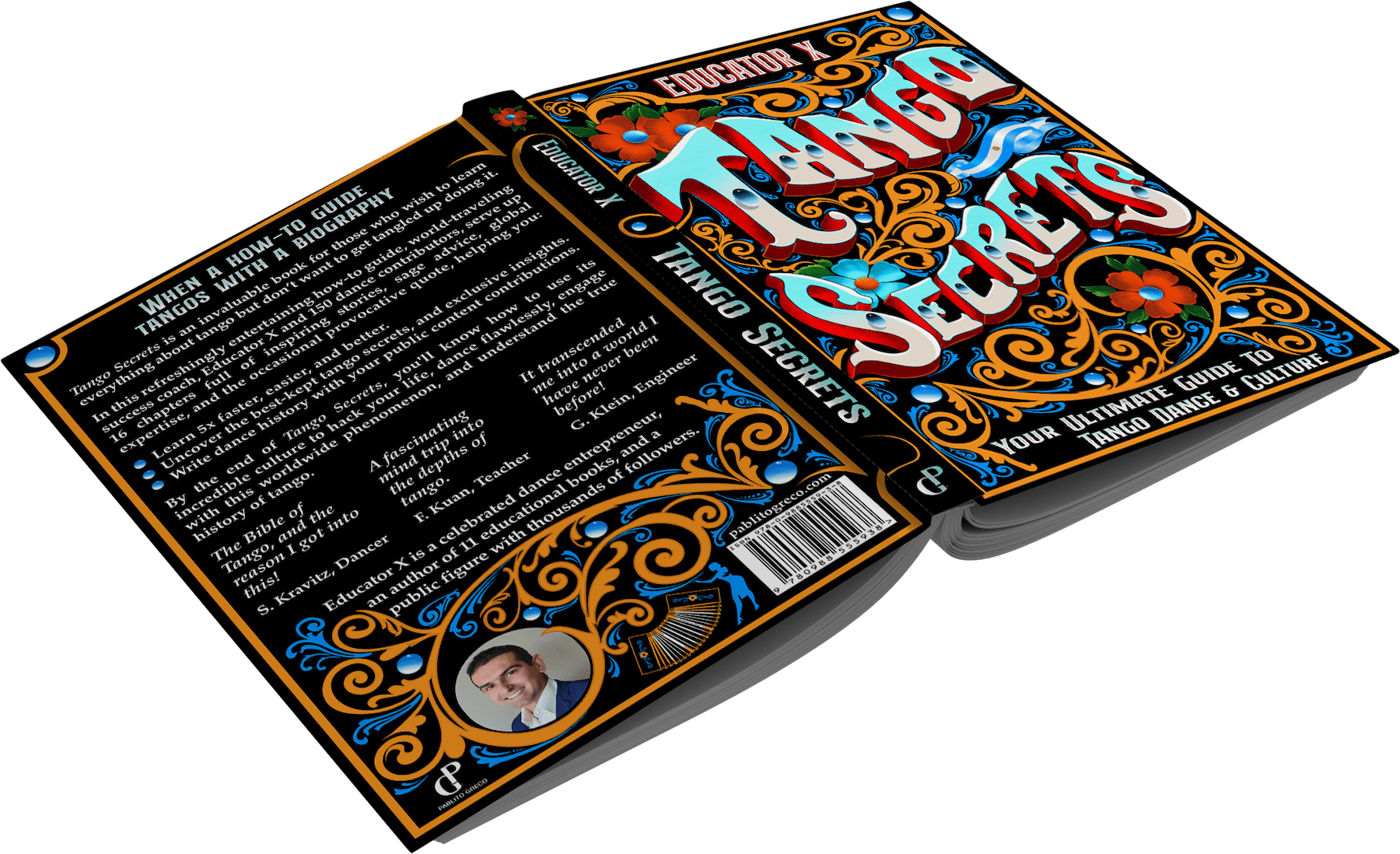 About
The Tango Secrets book is the world's first open-source book in the history of literature, made for YOU.
We wrote Tango Secrets for you (so you can save time and money finding the best and easy way) to get to know tango culture.

This NEW tango book includes ALL you want to know about tango (+ the free contributions of 150 talented worldwide tango dance masters and social tango dancers) and its secrets...

You'll find within over 20 years of global experience from social dancers, students, educators, performers, examiners, and researchers in dance.
Your Benefits
∙ Learn tango dance 5x faster, easier, and better.
∙ Access exclusive insights.
∙ Gain know-how guidance from real dance experts.
∙ Uncover the best-kept tango secrets.
∙ Master the language.
∙ Grasp the rich and diverse history of tango.
∙ Write dance history with your public content contributions.
Your Features
∙ The world's first Fileteado book cover.
∙ 200+ popular tango questions and their answers.
∙ 200+ historical events and facts about tango culture.
∙ 50+ biographical tango experiences.
∙ The essential Tango Glossary.
∙ The complete Tango Etiquette Guide.
∙ Hundreds of other tango secrets.
and in Deluxe edition: ∙ 400+ priceless references. ∙ 60 colored images. ∙ 20 unique colored tango graphics. ∙ 16 unique colored illustrations at the beginning of every chapter. ∙ A bonus chapter. ∙ An optional personalized note from the author.
---
Innovative
We dare again. Tango Secrets, first in 2013, brought multimedia to a book about dance. Today, it's the only open-source dance guide that preserves the culture of tango with your public content contributions.
Educative
Ignite tango learning. Tango Secrets is an educational tool that flexes your imagination and sparks dance engagement as a new way to learn. you at the center of education.
Collective
Takes 150 to tango. Tango Secrets is an incredible collective effort, by 150 dance masters and social dancers. Full of the tango history, culture, truths, tips, and tricks you want.
---
Tango Tips, Tricks, Truths
Tango Secrets book uncovers for you hundreds of tips, tricks, and truths surrounding the tango dance, music, and more. We explain dozens of tango subjects in a creative and educational way, paired with unique biographical examples.
Tango History & Culture
Tango Secrets book invites you to discover fascinating historical events and facts about tango culture. From the birthplace of the dance to the tango movies of today, it draws a complete picture about the culture from many dimensions.
Tango Experiences
Tango Secrets book shares with you 50+ biographical stories and adventures from the author's own dance career. The stories perfectly match the book's flow and give a unique perspective like you never read before.
Educator X
is an educational author, dance entrepreneur, and the founder of Pablito Greco Ltd, with 15 years of success under his belt.
Educator X (pen name of Pavlos) is a celebrated dance entrepreneur and a public figure with thousands of followers like you. He is best known for his corporate training method, that teaches through dance, productivity and teamwork hacks to businesses. His education has reached over 20 million people, since he began lecturing in 2006. Born and raised in Mediterranean Greece, he now lives in Canada and spends his free time having fun with his adorable wife. ∙ Educator X talks about the path towards Tango Secrets book: "I was raised in a family of secret artists who had public government jobs, my real-life superheroes. My father is an incredible painter and my late mother was a dancer. Yet, they kept their talents hidden. ∙ Growing up, I discovered my inclination to nature, physical movement, and research. When I won a scholarship to the best Masters program in my academic field, I eventually realized what was missing: It was Art, the flavor that changes the souls of ladies and gentlemen. ∙ Dance had finally found me, and I started a very rewarding, but rough and full of obstacles, career as a dance educator and performer. Tango Secrets book represents without question the epitome of that journey."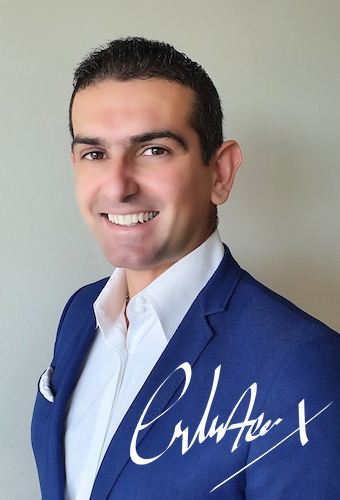 Download
Experience our tango book first pages for free.
Available now, as an exclusive offer, is a FREE selection from Tango Secrets. You'll fall in love with this fantastic work.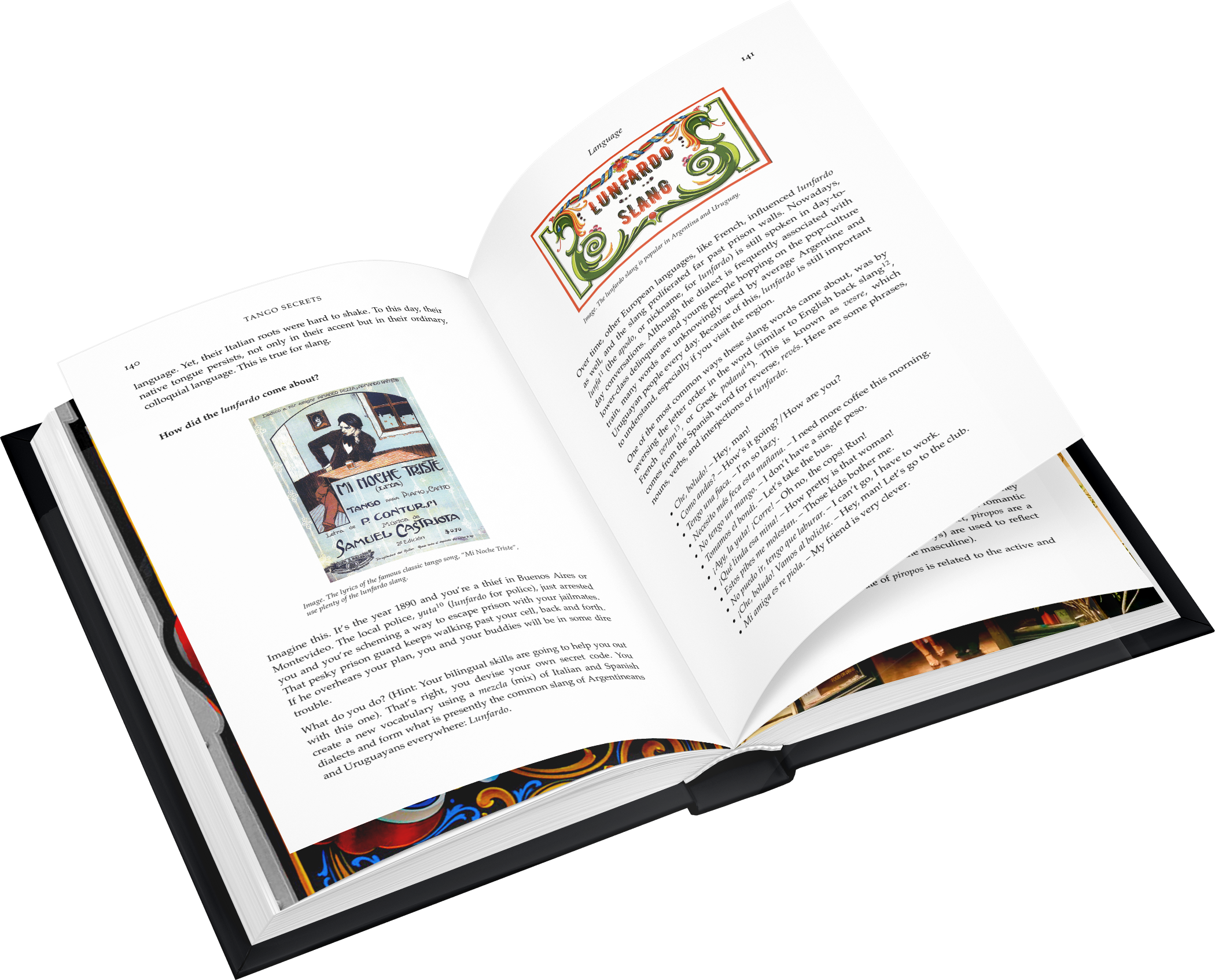 Store
Buy
Choose the package best for you.
Learn to tango quickly and easily, access its secrets, and have a lot of fun.
Essential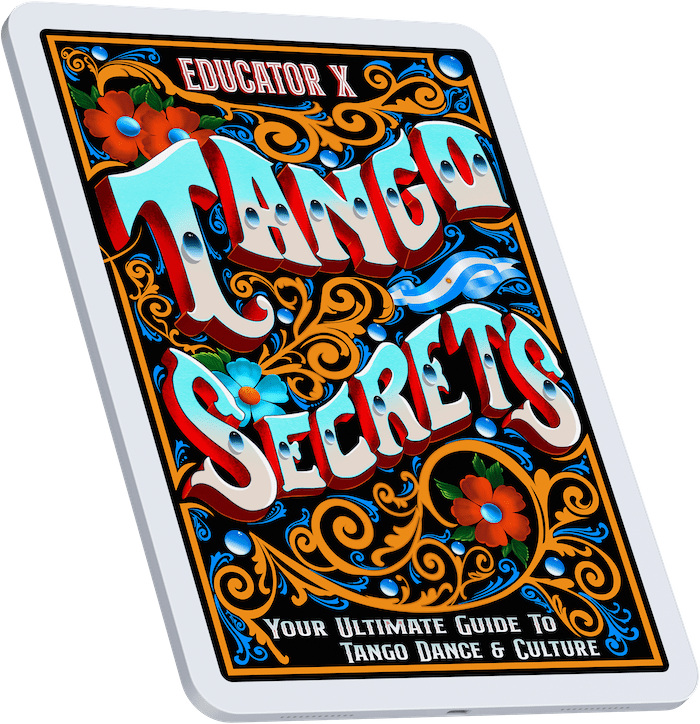 $19.99
B&W text
200+ events/facts
50+ bio experiences
200+ Q&As
Glossary & Etiquette
Limited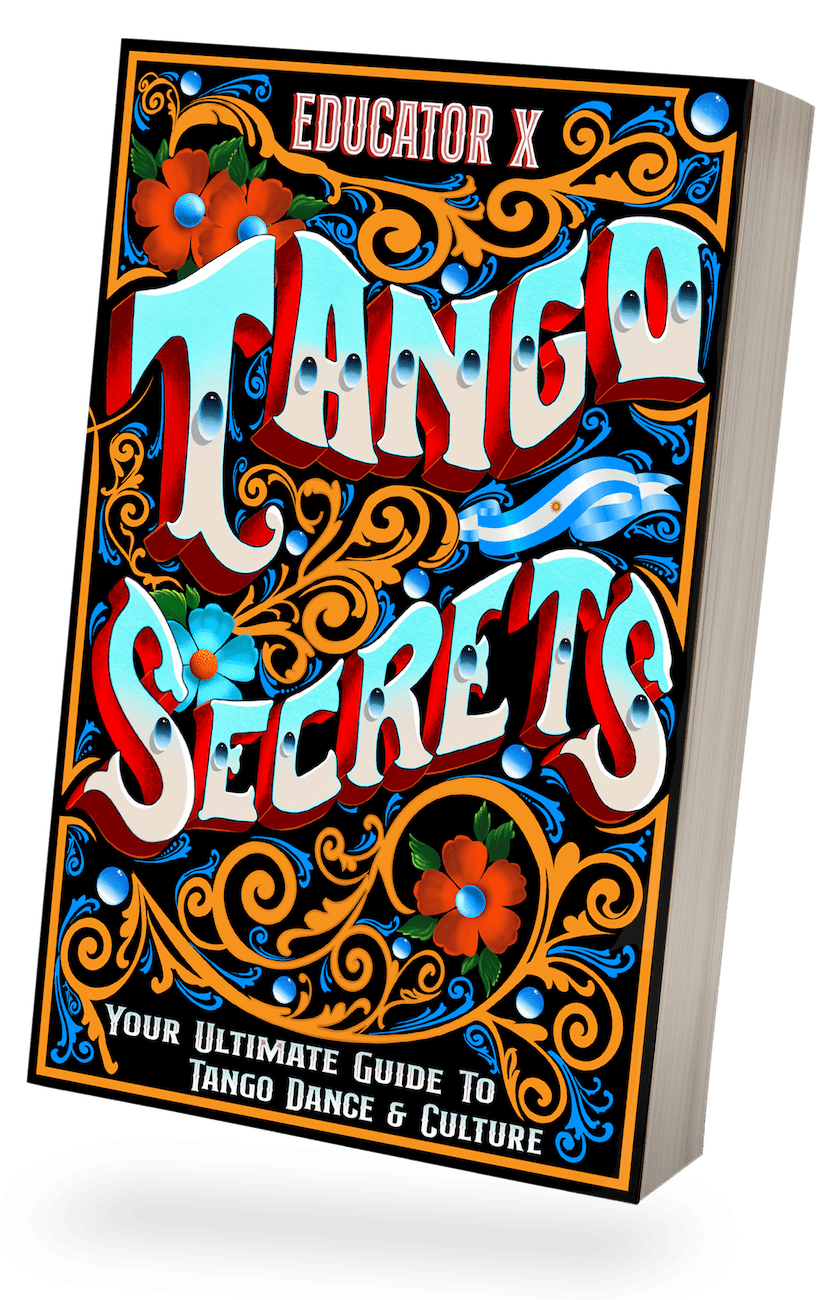 $24.99
Softcover
B&W interior
5x8, 200 pages
200+ events/facts
50+ bio experiences
200+ Q&As
Glossary & Etiquette
Pocket size
Premium print quality
Free shipping*
Deluxe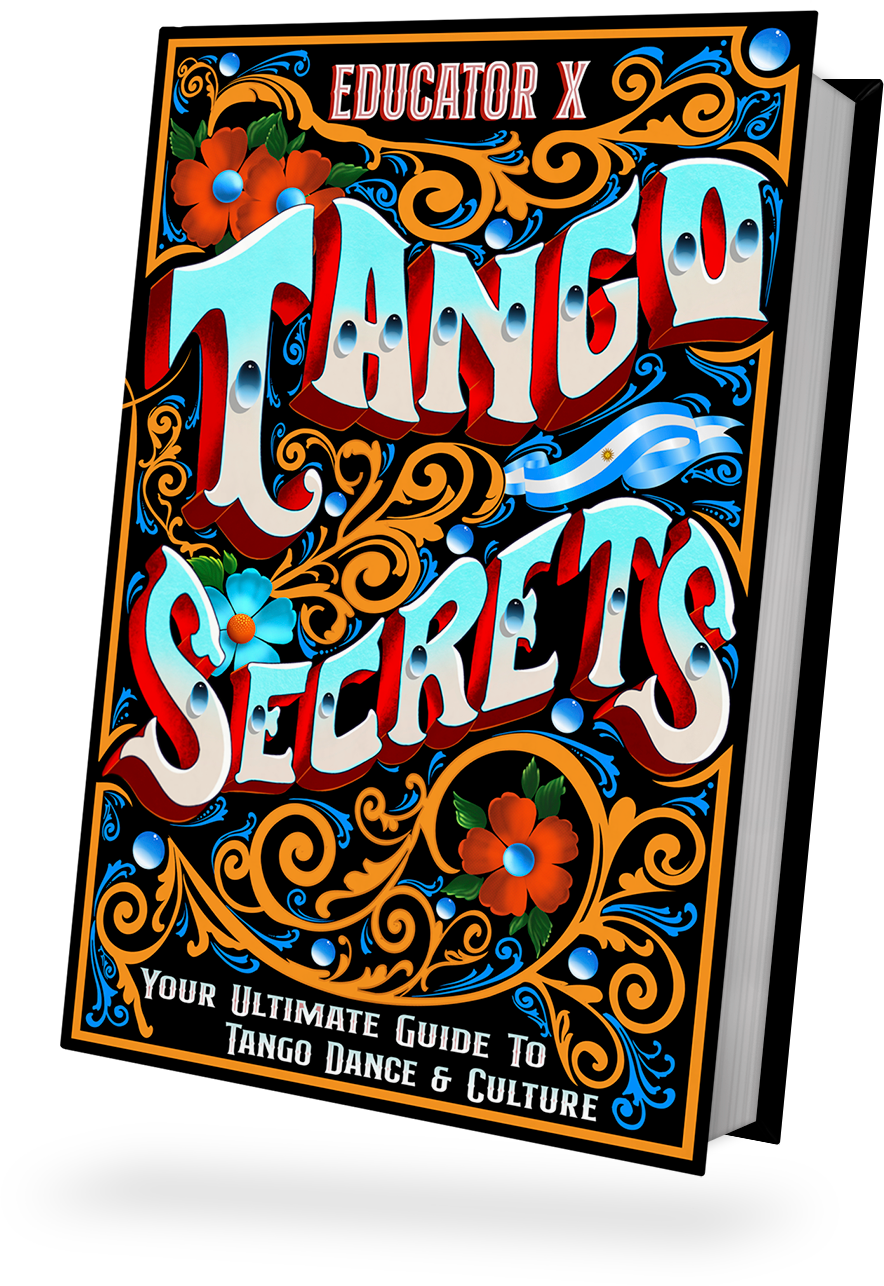 $34.99
Hardcover
Color interior
6x9, 236 pages
400+ references
36 illustrations
200+ events/facts
50+ bio experiences
200+ Q&As
60 images
Glossary & Etiquette
Contribute content
Bonus chapter
Premium print quality
The Tango Secrets Deluxe print edition also provides:

Exclusive project insights.
Special event invitations.
Not included: Tango images, graphics, references, and bonus chapter.
Not included: Tango images, graphics, references, and bonus chapter.
In case you missed anything.
Do you have a mobile app?
Yes, we do! Download the app for Android devices here:



Also, the Tango Secrets book website uses the new PWA (Progressive Web Apps) technology. With it you can download the application to your computer and/or tablet (for all brands). Watch the video:




Can I read a sample first?
Can I look inside the book?
Which bookstores have it?
You can find the Limited edition of Tango Secrets book in all major bookstores: Amazon, Barnes & Noble Nook, Indigo, iBooks, Rakuten Kobo, Lulu, Smashwords, Google Play books (these are the expensive options).

But, only from our website you can buy the Deluxe edition (the right option).


Who signs and publishes the book?
Do I need to have dance experience?
You don't need to have dance experience to buy Tango Secrets book. We wrote the book for readers, book lovers, art enthusiasts, and everyone else! For you.


Which device do I need for the ebook?
For the ebook of Tango Secrets, you will need one of the following: Kindle, Android, iPad, iPhone, Mac, Windows, Kobo, Nook. We have you covered.


Buying
Where do you ship?
We ship Tango Secrets book worldwide.


Do I get free shipping?
Yes, you get free shipping for Tango Secrets book when you choose the Limited package and pay through or .


Can I place a bulk order?
Yes. We define "bulk" as an order of 5 or more print Tango Secrets books (softcover, hardcover, or combination). The total price will be lower. Send us a message now through our form.


Which package is best for me?
If you like to carry your book with you, then the Limited package is for you!

If you prefer to have all the extras and enjoy details, then the Deluxe package is best for you.

If you like to have it in your device (like a smartphone, tablet, and computer) then go with the Essential package.


Where can I buy the Deluxe edition?
The only place you can buy the Deluxe edition is from our website and through the Deluxe package.


What payment methods do you accept?
How can I get a quote or purchase order?
Send us a message through our contact form. After that, you will receive a payment link and invoice to submit your payment and complete your purchase. Once we have received your payment in full, you will receive a receipt invoice via email.


What can I find in your merchandise store?
In our merchandise store you will find super cool collective items related to Tango Secrets and our other brands. Mugs, T-shirts, hoodies, phone cases, and more. You will have a lot of fun with them!


What's the handwritten personalized note?
You can add to your shopping cart a handwritten personalized note/message, you want the author to include in your Tango Secrets book.


Why all book prices are lower in this website?
Because when you buy from this website, you do it directly from us, without a middle-man. Also, because we control the prices of our books, and we want to create a long-term relationship with you, our reader.


Contributing
Why do you let people contribute content to the book?
We want to give everyone (anybody with internet access) the chance to preserve and share the tango culture with millions of readers. Tango Secrets was designed to be a collective work.


Why do you call this an open-source book?
It's an open-source book because everyone can see the source (content), suggest edits (change the content), and propose additions (develop the content). This is a tango for all open-source tango book, that has tango dance pictures, tango images, and the essence of tango culture.


How can I contribute content to the book?
1. Buy the Deluxe package from our website.
2. Leave your Amazon review (you need a free account).
3. Contribute the tango content you want (text-only) through our contact form.
With your permission, we will put your name in the contributors section of the Tango Secrets book and website. You will be famous!


When will my contribution be published?
Your contribution will be published within a few days, inside the Tango Secrets ebook and the print book. On the website, you can find your first name, on the .


Do you cross-check the contributions?
All contributions for the Tango Secrets book are checked thoroughly.


More questions? Send us a message!
The Contributors of the Tango Secrets Book.
All our contributors have purchased the Deluxe edition and have their own special page inside the book and the website. They actively preserve the tango culture, and we acknowledge their help with our deepest respects.

Crowdfunding contributors
Esdebar, Archontia, Evi, Nicola, Horst, Christian, Veronika, Tango Network, Mena, Kirch, The Creative Fund, Sabrina, Mark, Krisa, Nandi, Matia, Kiriaki, Giannis, Antonio, Andreas, Angie, Alexander, Youlie, Denis, Marybeth, Marvin, Andy, Jennifer, LaDonna, Deefaced, Craig, Hagop, David, Emileigh, Robert, Lucas, The High Frontier, D&P Consulting, Jens, costinEEST, Anastasia, Xristos, Martijn, Marc7454, David, John, Richard, Devin, Lucio, Centais, Adrian, Elizabeth, Duane, Zasabi, Heather, Hellberg, Adam

Content contributors
Argentina: Camila, Sofia, Victoria, Agustina, Franco, Matias, Joaquin, Martin, Juan, Mauro

Austria: Emely, Maja, Annika, Lorenz, Jan

Brazil: Ademir, Anastacio, Bernardo, Alandra, Clara

Canada: Jackson, Noah, Liam, Emmanuel, Lucas, Sophia, Olivia, Emma, Amelia, Aria, Mary, Charlotte, David, John

France: Emma, Gabriel, Jade, Raphaël, Louise, Léonie, Alice, Chloë, Lucas, Lena, Adam, Léa, Arthur, Rose, Jules, Anna

Germany: Paul, Leon, Henry, Felix, Elias, Jonas, Finn, Emma, Hanna, Mia, Emilia, Sophia, Lina, Clara, Ella, Marie

Greece: Yiorgos, Maria, Yiannis, Eleni, Constantinos, Dimitris, Katerina, Paraskevi

Italy: Giuseppe, Rosa, Giovanna, Lucia, Giovanni, Antonio, Mario, Luigi, Francesco, Angelo, Carmela, Caterina, Francesca, Antonietta, Concetta, Vincenzo, Pietro, Salvatore, Margherita, Sergio, Paola

Israel: Tamar, Miriam, Avigail, Adele, Yael, Mohammad, Noa

Japan: Haruto, Tsumugi, Aoi, Riku, Sōta, Yui, Ichika, Haruki

Netherlands: Tess, Zoë, Nora, Yara, Eva, Mees, Luuk, Noah, Sem, Sam, Lucas, Daan, Sophie

Russia: Vladimir, Sofia, Aleksandr, Ekaterina, Ludmila, Daria, Polina, Yevgeny, Alexey, Dmitry, Nikolai, Mikhail, Vyacheslav

Spain: Airam, Idaira, Brais, Iria, Ander, Nahia, Pau, Montserrat, Adam, Yasmin

Turkey: Azra, Eylül, Meric, Zeynep, Yusuf, Miraç, Kerem, Alpargun, Ömer, Eslem, Asya

United States: Liam, William, Oliver, Isabella, Charlotte, Benjamin, Amelia, Harper, Ethan, Lucas, James, Elijah, Evelyn, Matthew, Alexander, Logan, Dylan, Jayden, Samuel, Abigail, Scarlett, Madison, Zoe, Penelope, Grace, Olivia, Noah, Emma

Uruguay: Maria, Juan, Jose, Carlos, Luis, Ana, Jorge, Julio, Pablo, Ruben, Walter, Miguel, Hector, Fernando, Daniel, Silvia, Laura

Join our amazing community!
Choose one of these options to help us cut the middle-man (PayPal, credit cards, etc.) and save us from their high fees. With no third-party fees, you will get a better price (for all packages) and free shipping (for Limited package).

Wire/Bank
Essential package send: $19
Limited package send: $24
Deluxe package send: $34
Account #: 010110644152
Branch/Transit #: 69282
Institution #: 837

Bitcoin
Essential package send: 0.00044586 BTC to bc1quv0syhndtruyhdw9385v38y8kwdpmmlrpz9a90

Limited package send: 0.0005633 BTC to bc1qek53ykmc3a7q2q0y7s7pp0lf53e8rltfvqwkh8

Deluxe package send: 0.00079786 BTC to bc1qajnca28revmqaku45yg3wghr7v72gq5eyqq6ky

or scan one of the QR codes: